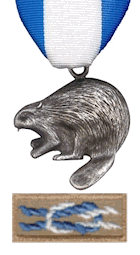 The Silver Beaver Award is the council-level distinguished service award of the Boy Scouts of America. Recipients of this award are registered adult leaders who have made an impact on the lives of youth through service given to the council. It is given to those who implement the Scouting program and perform community service through hard work, self-sacrifice, dedication, and many years of service. It is given to those who do not actively seek it.
The medal consists of a silver beaver pendant suspended from a blue and white ribbon worn around the neck. Recipients may wear the corresponding square knot, with a white strand over a blue strand, on the BSA uniform. Using the United States Military as the model, silver awards are the highest awards in the BSA.
Nomination: Information for the Atlanta Area Council can be found here: http://www.atlantabsa.org/advancement/volunteer-awards/6737. Nominations are generally due in November (check for current deadlines), announcements are in December, and the ceremony in late Spring the following year.
Foothills District Silver Beavers
Year
Recipients
2016

Lewis Hays

Bob Ott

2017

Mike Cherches

Tina Kerr

2015

Stephanie Daniels

David Jaracz

Sam Olens

2014

Donaldson Dodge

Donald Olds

2013
Mark Prestwich
Donna Vinson
2012
Wayne Marcinko
Wade Patrick
2011
Eric Flamm
Tom Haltom
Greg Knight
2010
Brian Campbell
Morgan Robertson
Bill Russell
2009
Doug Bahr
Rodrigo Cano
Bob Cato
Steve Harrison
2008
Tom Bulger
Henry Molinet
John Overcash
Tim Tassopoulos
Mary Ellen Yeomans
2007
Cary Bradley
Ted Crouse, Jr.
Harry "Hap" McNeel
Dennis Rowe
David Schimmel
2006
Tim Aumann
Pat Bonito
Marilyn Parker
2005
Michele LaVigne
2004
Jay Lentini
2003
Kathy Esler
Susan Hardy
2002
Dave Heusinger
2001
Dennis Esler
Tom Morin
2000
Steve Fisher
1999
Dave Adams
Tommy Treat
Kim Kaumeyer
1998*
Bill Hall
William "Bill" Weinberger
John C. Lyon, Jr.
Billy Ray Hight
1997
Karen Angeli
George Henry Mingledorff III
Tommy Sprayberry
Kenneth E. Williams
1996
Fred Feltmann
Andy Heaton
Mike Wiedower
1995
James C. Fenner
Peter J. Huber
John Huffman
1994
David Muller, Sr.
Sherry Huffman
Wanda Lawson
1993
Cliff MacMahan
Rex Allred
1992
David Muller, Jr.
Rev. James Speed
G. William Hill
1991
Karen Gagnon
Dr. Robert O. Stephens
John L. Sullivan
Pam Googe
1990
Curt Newton
Fred Droms
Nancy Johnsen
1989
Ginny Acocella
Lawrence Jefferson
Bion Jones
1988
Albert H. Friel
Oscar Towns
1987
Ken Stadler
1986
Monty Calhoun
Duane Ruggles
1984
Fredricks Garlinghouse
Jim Vaughn
1983
Richard Choate
1982
Hank Thornburgh
1981
Henry Branton
Ted M. Vinson
Daniel Worley
1980
Ronald R. Roper
1978
Thomas Ashworth
Robert O. Claunch
William Woods
1977
Malcom Bowles
1976
Bill Collier
1975
Thomas A. Ogletree
1974
Arthur Arceneault
* Recipients prior to 1999 were volunteers in the Cobb district,
prior to the restructuring that created the Foothills district.