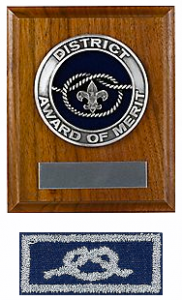 The District Award of Merit honors Scouters who render service of an outstanding
nature at the district level. Each year a district may award up to 1 award for each 25 Scouting units or fraction thereof. The recipient receives the District Award of Merit plaque and can wear the appropriate knot on his or her uniform.
Nomination: A Scouter may not nominate him or herself. The nominee must be a registered leader and have performed noteworthy service to youth in Scouting, outside Scouting or both. This interactive form can be printed and used as the cover for the nomination packet. Successful nominations will include additional documentation of the nominee's background, service to Scouting and to the community, and if desired, letters of recommendation.  Complete instructions for submitting nominations are published each year in the district newsletter beginning in October or November.
The award is presented each year at the Foothills District Recognition Banquet. We regret that, due to the large number of nominees each year we are unable to award all who deserve this award. Please update and re-submit nominations in subsequent years so we can honor your nominees as availability permits.
District Award of Merit Recipients
Note: awards presented the following year at the annual banquet.
Year
Recipients
2020
Doug Carey
Steve Carlin
Larry Labbe
2019
Greg Crenshaw
Scott Hawley
Lee Miller
David White
2018
Frank Jewell
Brian Wright
Stephen Padgett
Dan Wright
2017
Becky Borders
Scott Harward
Britta Smith
Hilary Thornton
2016
Laurie Champion
Tina Kerr
Hammond Reynolds
Kes Stadler
2015
Don Dodge
Robert P. Rambo
Martin Smith
Matthew Sulhoff
2014
Stephanie Daniels
Keven Hatcher
Michael Menninger
Donald Olds
2013
Gail Callina Allen
Dave Bottoms
James A. Talerico
Robert Taylor
2012
Bill Deakins
Michael French
David Jaracz
John McAskill
2011
Lewis F. Hays
Wayne Marcinko
Deborah Puckett
LTC Thomas P. Welch (Ret.)
2010
Paul Fitzner
John LaVoy
Mike Lotz
Richard Skoonberg
2009
Eric Flamm
Sheryl Hughes
Joni Russell
Jean Marie Schiraldi
2008
Ellen Evans
Dr. Tom Haltom
Steve Harrison
Dr. Mark Prestwich
2007
Doug Bahr
Rodrigo Cano
Jerry Richstein
Bill Russell
2006
Mike Cherches
John Hall
Wade Patrick
Dave Schimmel
2005
Cary Bradley
Ted Crouse
Kim Kaumeyer
Sherry Wright
2004
Wesley McLendon
Ferrrell Moultrie
Don Ross
Ed Rousselot
Bob Stong
2003
Paul Alfieri
Kerry Cook
Jane McCabe
Jim Reach
John Sillay
2002
Bennie Ray Hopkins
Barbara Misel
Mel Osburn
Brad Wright
Warren Wright
2001
Tim Aumann
Bob Cato
Brian Campbell
Susan Hardy
Jay Lentini
2000
David Amend
Joan Immke
Mike Jamison
Pamela Roberts
1999
Jack Boutin
Tom Bulger
Rob Collier
Rob Hilkin
1998
Kathy Esler
Pat Bonito
Tea Traylor
Lorrie Sobieraj
1997*
Dennis Esler
Dave Heusinger
Sam Johnson
Greg Knight
Marg Kruzner
Jerry Melton
Harry Penninger
Bobby Plaskett
1996
Becky Collier
Maggie Franz
Carolyn Ghee
Henry Mingledorff
Tom Morin
Michele LaVigne
Jim Reed
Mike Wells
1995
Bill Kabel
Denis Foerst
Jan Wullschleger
Pete Tucker
Renee Tucker
Marilynn Parker
Jody Laurens
John Humphreys
1994
Fred Feltmann
Andy Heaton
Shirley Williams
Cathy Lyon
Philip Visha
Frank Cullins
Darden Borders
Iuveni Gutierrez
1993
John Huffman
Jimmy Ford
James McCray
Karen Milligan
Mary Honiker
David Adams
Bill Weinberger
Charles Parris
1992
Sherry Huffman
Don Snyder
Tommy Sprayberry
Don Prince
Mary Ellen Yeomans
Ken Williams
Karen Angeli
Jim Schornak
1991
Mike Wiedower
Bill Smith
Jaan Ann Hardin
Dott Lott
Wanda Lawson
Pat Day
Homer Black
Frank Bettis
1990
Russ Parker
Daryl Miller
George Lowther
Mike Lott
Rex Allred
Bill Hall
Bill Allen
Don Smith
1989
Cliff Barger
Mary Parker
Dick Prange
Robert Smith
John Lyon
Bill Bass
Danny Palmer
1988
Pam Krohne
Pete Huber
Walt Huffines
Tom Smith
Tom Chadwick
Mike Patellis
1987
Steve Fisher
Teresa Carter
Larry Cupp
Louis Gangi
Tom Hargis
Phyllis Lea
1986
Nancy Johnsen
Bill Hill
Bion Jones
Curt Newton
Bob Stephens
Robert Shirley, Jr.
1985
Al Friel
Ginny Acocella
Richard Hilgen
Fred Droms
Gene McCord
1984
Wayne Sanders
David Muller, Sr.
Bob Gagnon
Robert Garvin
Pete Mitchell
1983
Mary Buckman
Karen Gagnon
Richard Garlinghouse
Vicki Towns
David Muller, Jr.
1982
Harold Otwell
Ken Stadler
Duane Ruggles
Jenny Wendel
Tom Hutto
1981
Jim Sprouse
Jim Vaughn
Lawrence Jefferson
Oscar Towns
Billy Hight
1980
Art Arseneault
Mary Fox
John Sullivan
Dan Worley
1979
Velma Grimes
John Jacks
Marty Kinchen
Tommy Treat
Joe Yeargin
1978
Donna Vinson
Fred Hayworth
David Maryin
Ron Roper
Fredricka Garlinghouse
1977
Mike Fletcher
Ted Vinson
Tom Keller
Elise Neal
Hank Thornburgh
1976
Phil Bartos
Harvey Cato
Cliff McMahan
Ray Sedlacek
Earl Waters
1975
Bobby Alexander
Bill Leinmiller
Jim Moody
Bob Rap
I.T. Quinn
1974
Henry Branton
Les Haley
Tom Ogeltree
Jimmy Payne
William Woods
1973
Bill Barber
Sig Gruener
Walter Kelly
Pat Waters
Tom Ashworth
Malcomb Bowles
Bob Claunch
Billy Collier
Hart Gates
Dave Lipscomb
Eileen Smith
Lola Vix
Guy Northcutt
* Awards prior to 1999 were presented by the Cobb District.